At one end, RDA offers digital access to all conventional account services including funds transfer, bills and fee payments, and e-commerce. At the other end, it allows overseas Pakistanis to invest in bonds and stocks, including Naya Pakistan Certificates (NPCs) at the click of a few buttons.
About one-third of RDA inflows to-date is driven by the previously unmet need to easily conduct conventional banking affairs in Pakistan, reflecting that there is more to RDA than just investments. The remaining flows are channeled to the NPCs, courtesy the lucrative returns it offers compared to other asset classes.

Naya Pakistan Certificates offer attractive rates of return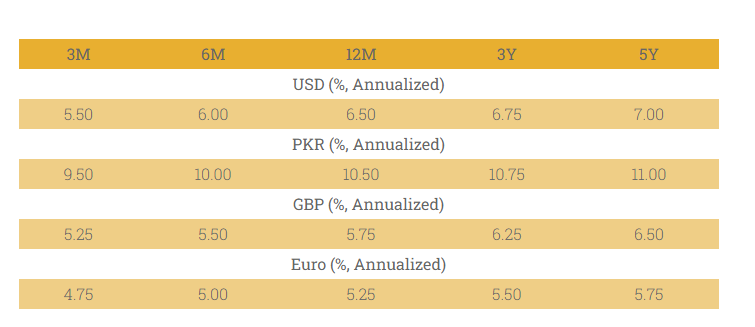 A portfolio of $100 invested in NPC at the start of ongoing fiscal year is actually worth more (today) than if the same amount was invested in emerging market equities or debt securities as benchmarked by the MSCI EM Index, and Bloomberg Emerging Markets Hard Currency Aggregate Index respectively. In fact, people who invested in NPC at the start of FY22 are also better off than those invested in gold, which is usually one of the most sought after investment avenues in times of economic uncertainty that currently marks global economic environment.
Even now, the NPC compares favorably with several other saving and investment options. For non-resident Pakistanis, the NPC does not only offer attractive returns compared to those offered by time deposits by banks in advanced economies marked by low interest rate environment, it also offers consistent returns unlike several other instruments and asset classes that are volatile in nature.
Since the NPC caters to both conventional and Islamic investment needs, RDA inflows in both these instruments have more than doubled since the start of this fiscal year, as have the number of account holders, which suggests a growing appetite for RDA among overseas Pakistanis.
It is also heartening to see the diversity in RDA. Consider for instance, the fact that neither the RDA account holders come only from a few countries, nor is the total invested amount in NPCs skewed towards a few account holders, which is not surprising considering that investments in NPCs through RDA can be made from amount as little as USD 5000. Moreover, whilst at the start of RDA, investments in NPC were concentrated mainly in shorter tenors, flows into longer tenors have increased over time. These dynamics suggest that non-resident Pakistanis from a wide variety of investor appetite and origins, reflecting that the confidence on Pakistan's economy in general, and on the NPC in particular is rather widespread, and growing.