The Impact and Customer Response to E-Stamping

SThe government of Punjab, in collaboration with PITB and Bank of Punjab (BOP), introduced e-stamping system for the first time in Pakistan in 2016.33 The major objective behind this initiative was to provide a hassle-free and quick access to stamp papers and to prevent fraudulent activities. With the manual system, it used to take two to three days for someone to get judicial and non-judicial stamp papers issued; e stamping has reduced this process to few hours with two simple steps. 34 To counter fraud, the system allows online verification of the e-stamps and prevents reuse of stamp papers. In case of sale or purchase of a property, the value of stamp duty is determined through DC valuation tables based on the data of location, covered area and property type i.e. residential or commercial. This feature helps to prevent tax pilferage resulting from understatement of the property value, which used to be a common practice with manual stamping. As a result of these features, there has been a marked increase in collection of stamp duties since the inception of this system (Figure 7.3.1).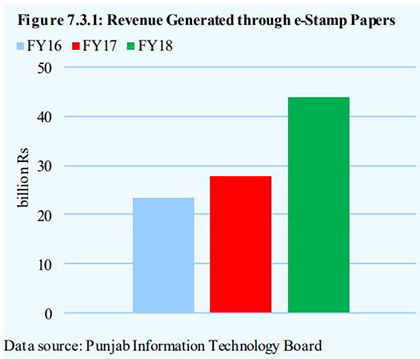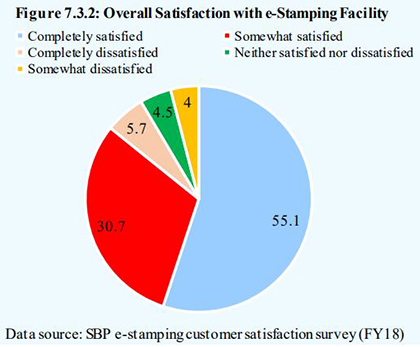 An e-stamping customer satisfaction survey conducted by SBP revealed that over 85 percent of the respondents were either "completely satisfied" or "somewhat satisfied" with the service (Figure 7.3.2). That said, a few concerns identified during the survey may be addressed going forward, such as the relatively limited knowledge and awareness of e-stamping; limited access, with only a few BOP branches providing the facility; and unavailability of an online payment option. There also appears to be room to make the online form more user-friendly, according to the survey.
Share With:
Other Topics: