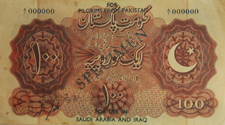 The pound sterling got devalued in 1949, Pakistan chose not to devalue its currency, and complete restrictions were placed on the export and import of currency except Saudi Arabia for pilgrims. this gave rise to the smuggling of currency; to curb this, Government decided to issue special Haj Notes.

The first State Bank Haj issue was a 100 Rupee Note, the same design as 100 existing rupee note & printed by Thomas de la Rue & Company on May 1950. It was red in color & over printed on the front (in English) 'For pilgrims from Pakistan for use in Saudi arabia & Iraq'. The pattern of first 100 rupee Haj Note was in use for about twenty two years, till 1972. The 1972 banknote was similar to the 1948 issue but released under the authority of the 'State Bank of Pakistan' as opposed to the 'Government of Pakistan'. These Haj Notes were not legel tender in Pakistan.

By 1954 the 'Pakistan Security Printing Corporation' was printing all denominations of notes. After demonetization of currency, in 1972 new Haj Notes were designed. The Haj Note of 10 Rupee was exactly the same as the preceding one, but signed by shakirullah Durrani, and different in colors. The innovation was introduction of the Urdu text for 'Haj Note', the English overprint remained unchanged. In the mid 1970's State Bank of Pakistan released new bank notes. this was followed by a new 100 Rupees Haj Note between 1975 & 1978 in the pattern of new Rs. 100 Note.